Immunity Booster Kit
Designed to defend your body against foreign invasions like bacteria & viruses, and build a strong endurance system, this immunity kit is all you need for your daily dose of fitness.
EXPERTISE AREAS

Nadi Pariksha
– Ancient ayurvedic technique of diagnosis through the pulse
– Diagnose physical, mental, emotional imbalances & diseases
– Non-invasive science that enables us to reach the root cause

Panchakarm
– Servicing of the human body
– Aims to remove toxins from the human body
– 5 detoxification procedures based on nature of disease
Suprajanan
– Healthy pregnancy is must for baby's well- being after birth
– Program of 15 to 18 months for before, during & after pregnancy
– Process of educating the mind of unborn babies
OUR SERVICES
Suwarna Prashan Sanskar
Administration of Swarna (gold) in children for the benefits of improving intellect, digestion and metabolism, physical strength, immunity, complexion, fertility, and life span.
Weight Loss Program
Deep, dry massages with herbal powders and pastes (Udwarthanam), synchronized massage with specific oils + herbal steam bath helps mobilize the accumulated fat.
Ayurva Privilege Card
We emphasize on prevention and the preservation of health. Comprehensive solutions to maintain good health in the long term with this program.
Beauty Treatments
Includes contours of the body, texture of the skin and the quality of the hair and nails. Massage is the easy method for the proper circulation of vital fluids to give a beautiful luster to the skin.
APPOINTMENT
WANT TO BOOK APPOINEMENT OR HAVE A QUESTION?
Call us on 1800-210-1873 or simply book an appointment today itself.
MASSAGE THERAPY CENTER
You deserve better than a rushed massage by a rookie therapist in a place that makes you feel more stressed.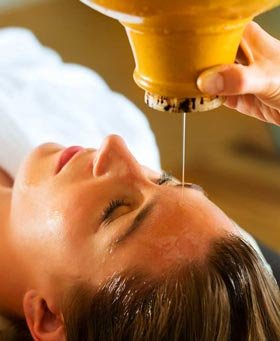 SHIRODHARA
Gives relief from chronic headaches, insomnia, mental tension, hysteria, hallucination, insanity etc.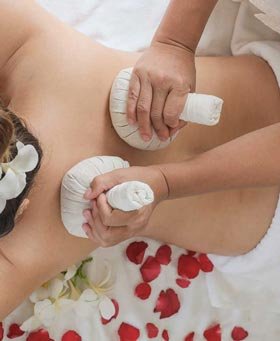 PINDA POTTALI SWEDAN
Is a swedana using a bolus with different medicinal herbs & milk. Useful for Vat disorders.
Netra Basti
Lukewarm herbal oils are poured into a cup fitted on the both eyes. This treatments highly effective for eye problems.
Kati Basti
Warm medicated oil is kept over lower back with herbal paste boundary. Useful for back pain and spinal disorders.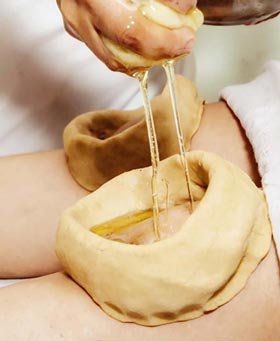 Janu Basti
Warm medicated oil is kept over the knees with herbal paste boundary.
Useful for knee joint problems.
Karnapuran
Medicated fumes & oil applied to the ears. Helps to clean the ears and rectify ear problems.
HAPPY CUSTOMERS
We got 100% relief for both of us. I, Mangesh suffered from increased bilirubin levels which got cured after 3 months medicines from Dr. Suyog. My wife, Madhuri got relief for her backache with 3 moths medicines from Ayurva.


Mr. & Mrs. GadekarYeola, Nasik.
We have undergone the detoxification therapies at Ayurva in Jan 2020. Both of us got tremendous effect in our health & in our daily routine. We have also lost few kg's of our weight during this 2 weeks program. This is wonderful treatment for servicing of our body as we do for our car.


Mr. & Mrs. PatilPimpale Saudagar, Pune
I have been beneficiaries of Dr.Vaibhav's treatments since a decade for my entire family. I have witnessed some wonderful result for everyone in my family. Most important, I remember a Kidney stone issue of mine which got cure without operation. I recommend to follow their treatments for better immunity & health.


Er. Pranit PawarBajaj Auto, Pune
I have undergone the panchakarma treatments at Ayurva in Jan 2020 for detoxification (2 weeks program). I got 80% relief in my complains after these therapies. I am sure will get 100% relief with the current Ayurva medicines. I advised to go with Ayurva therapies for your complains.


Er. Ganesh DhamangundePune
We had planned a arrival of our Baby with the Garbhasanskar program from Dr.Suyog in 2012. With all authentic medicines & guidance we blessed with a healthy & immune baby boy. He is now 8 years old & till now never required to took any allopathic medicines for any of medical issue. Strongly recommend the program for a healthy future of your family.



Adv. Jagdish ShindeNasik
I was suffering from neck & throat pain since 3 years. Had undergone many allopathic treatments but couldn't get any relief with my complains. At Ayurva, I have undergone treatment with consultation from Dr.Pradnya & it has given me quick relief & complete relief in 3 months. At present Dr.Pradnya is our family doctor. Thanks



Mrs. Shilpa ShindeKatraj, Pune
BOOK AN APPOINTMENT
OPEN HOURS & CONTACT
1873 Corporate Arena, A-204, Vitthal Complex,Keshavrao Bhumkar Chowk, Narhe, Pune.
Mon-Sat: 10am-6pm
Toll Free Number

1800-210-1873